Categories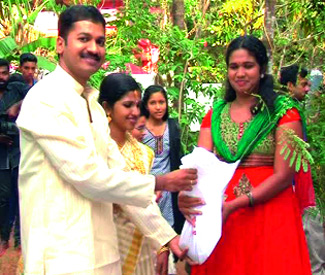 Jan 21, 2014
Advocate Nitheesh spreads shade together with his wife by gifting plants to the guests of their marriage. It was the wish of Nitheesh to spread shade in everybody's life, and he found it appropriate on the day of his marriage. This wish made their marriage exclusively unique and thereby he was able to spread the message of "Environmental Protection".
Nowadays marriages are bound to expensive parties and extreme luxury. Through Nitheesh and Soumya's marriage, they have given a moral to the society,what it actually need to do with their money.
Last Sunday Nitheesh, who is an advocate at Kottarakkara bar got married with Soumya, who was happy to support him to accomplish his wish at the day of their marriage.
Fifteen varieties of plants were gifted to the guests, which included Teak, Mahogany, Jack Fruit, Sandal wood etc..
Nitheesh wanted to share the message "SAVE TREES" during the most important day of his life, in which he got hearty support from all including his life partner.