WPC Composite decking mimics the look of real wood while providing you with excellent durability. This flooring type is made from both wood fibers and thermoplastics and is more affordable than wood decking, making them ideal for outdoor spaces.
TECHWOOD is Made from a combination of plastic and wood fibers, composite decking is manufactured to look like real wood decking. There aren't any preservative chemicals used during manufacturing, and you get to skip the splinters that come from traditional wooden decks.
Composite decking is known for its long life. Since the plastic protects the wood fibers from the elements, composite decking isn't prone to rotting, decay, or termite damage. It also won't fade or wear down from constant exposure to the sun and cold temperatures. Composite decking often comes with warranties ranging from 10-25 years that guarantee it won't rot or suffer structural damage under normal residential conditions.
TECHWOOD is user-friendly and it substitutes other traditional wood or plastic building materials.
TECHWOOD products are designed for Outdoor & Indoor applications including decking, railing, cladding, false-ceiling and other decoration work. Techwood TECHWOOD products are free from conventional wood problems such as splitting, warping, decay and are 100% waterproof and termite proof.
TECHWOOD is a revolutionary product, very apt for exterior cladding and has been widely used in Western countries. It is most suitable for renovation of old fashioned exterior. It gives the elegant look of wood and apt for those who want to upgrade from conventional ACP/Metal/Glass cladding.
TECHWOOD is very easy to install and to revamp the exterior & interior of showrooms, as it can be readily covered on metal partition, front fascia, rooftop, gate fascia etc. It doesn't even need frame work as it can be directly nailed, screwed or pasted on walls & use metal channels for false-ceiling.
The TECHWOOD products has got a lifetime guarantee for its quality. The colour shades are guaranteed against extreme weather Conditions TECHWOOD profiles are most suitable for Swimming pool floors, Garden pathways, Shower/Toilet flooring, Wet area floors, Staircase steps, Automobile floors and many kinds of anti skid applications.
TECHWOOD provides user friendly Handiclip system to install the decking / flooring to strong and solid installation by not having those unsightly nail/screw heads showing.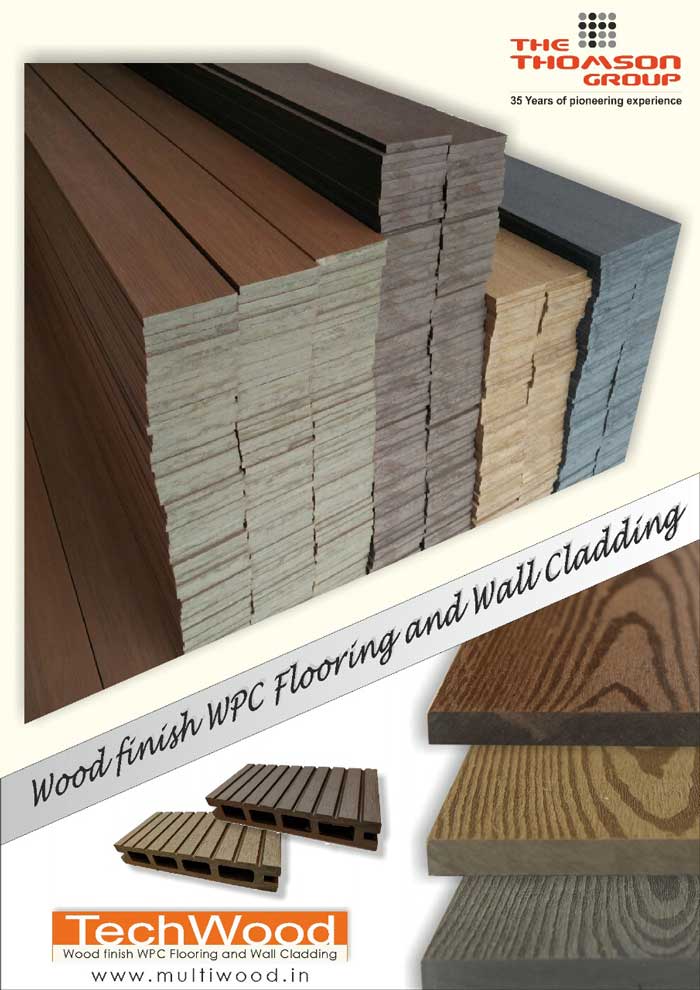 TECHWOOD Features
100% water and termite proof
No surface polishing or painting required
Echo-friendly / save trees / recyclable
Save time & money.
No maintenance
Available in different shades and sizes
Easy to fix with standard wood working tools
Can nail, screw and paste
TECHWOOD Common uses
Interior & Exterior decorations.
False-ceiling & Interior wall decoration
Watchman cabin & Site
Offices Gate fascia, slope concrete roof covering
Partitions, wall cladding & paneling
Garden benches, Outdoor tables & Handrails
Decking & flooring of Swimming pool.
Garden & Outdoor pathways
ടെക്‌വുഡിന്റെ വിശേഷണങ്ങൾ
ചിതലരിക്കാത്തതും 100% വെള്ളം നനയാത്തതും.
മേൽഭാഗം മിനുക്കുകയോ പെയിന്റ് ചെയ്യുകയോ വേണ്ട.
പ്രകൃതിസൗഹാർദ്ദവും മരങ്ങളെ സംരക്ഷിക്കുന്നതും പൂനചംക്രമണം സാധ്യമായതും.
പണം ലാഭവും ഒപ്പം സമയലാഭവും.
അറ്റകുറ്റപ്പണികൾ ഉണ്ടാകില്ല
പല വലിപ്പവും ഷെയിടുകളിലും ലഭിക്കുന്നു.
എളുപ്പത്തിൽ സാധാരണ മരപ്പണിയായുധങ്ങൾ ഉപയോഗിച്ച് ഉറപ്പിക്കാം.
സ്ക്രൂ ചെയ്യാം, ആണിയടിക്കാം ഒപ്പം ഒട്ടിച്ചെടുക്കുകയും ചെയ്യാം.
അറുതെടുത്ത മരത്തിന്റെ ഭംഗി ,പല നിറങ്ങളിൽ
വാതിൽ കട്ടിള , ജനൽ കട്ടിള , പാളികൾ എന്നിവ ഇപ്പോൾ ലഭ്യമാണ്.
കൂടാതെ മറ്റ് അനേകം മോഡലുകളിലും ലഭിക്കുന്നതാണ്.
ടെക്‌വുഡിന്റെ പൊതുവായ ഉപയോഗങ്ങൾ
ഏകഭാഗത്തും പുറം ഭാഗത്തുമുള്ള അലങ്കാരങ്ങൾക്ക് വേണ്ടിയുള്ളത്.
മേക്കൂരയുടെ തട്ടിലും പുറം ഭാഗത്തുമുള്ള അലങ്കാരങ്ങൾക് ഉപയോഗിക്കാം.
വാച്മാനുള്ള മുറികൾക്കും അത്തരം ഇടങ്ങളിലും അനുയോജ്യം.
ഓഫീസുകളിലും, ഗേറ്റുകൾ നിർമ്മിക്കുന്നതിനും, ചെരിവുള്ള കോൺഗ്രീറ് ഭാഗങ്ങളിൽ മേൽക്കൂര പണിയുന്നതിനു ഉപയോഗപ്പെടുത്താം.
ഇടഭിത്തികൾക്കും ചുവരാവരണത്തിനും ചട്ടപ്പലകകൾക്കും അനുയോജ്യം.
പൂന്തോട്ടത്തിലെ ഇരിപ്പിടത്തിനും പുറത്തിടുന്ന മേശകൾക്കും കൈവരികൾക്കും ഉത്തമം.
നീന്തൽ കുളത്തിലെ തറയ്ക്കും മേൽത്തട്ടിനും അനുയോജ്യം.
പൂന്തോട്ടത്തിലും അതിനു വെളിയിലുള്ള ഊടുവഴിലാളിക്കും ഉപയോഗിക്കാം.
A fascia is a simple, broad strip that ran straight above the columns and across the bottom of the ancient architecture. These fascias were usually made of ornately carved stone and were attached to a cornice. A fascia, also known as a fascia board, is a horizontal strip that runs down the bottom edge of a roof where it overhangs the building's exterior walls, helping to fill the gap between the roof and the wall in more contemporary constructions. Building fascia is now easy with Thomson techwood. Natural wood's elegance and incomparable warmth are blended with our innovative technology's simplicity and durability. Wooden outdoor flooring is constructed of bamboo fiber, high-density polyethylene, and chemical additives, making it 100% recyclable and environmentally beneficial. The product is offered in two kinds and a variety of sizes to fit your specific requirements. The product can also be used in the outdoor gates and outdoor pannel. When it comes to gate pannel people does not always choose the same material. To have a beautiful trendy look for the gate techwood is the best material. In comparison to metal or inflatable above-ground pools, a wood swimming pool offers several advantages. Wooden pools have a more substantial and stable construction, making them less prone to collapse, which is especially important if you have youngsters who like to jump in! Through their colors and textures, WPC boards emulate the actual features of natural wood. This is due to a unique material mix of wood powder and thermoplastics, which when combined, provide outstanding intrinsic properties of a genuine outdoor wooden planks look with a high tenacity to withstand harsh outdoor weather conditions. Trying something new and guaranteed material for exterior wooden planks is what people look forward for their dream home.