Nothing compares to the feel and sight of real wood. Any space or atmosphere will instantly feel cosy and unique owing to the lively nature of the wood. But when you consider the price of the product, installation, and maintenance, choosing natural wood is not a cost-effective alternative. Thomson Multilam Ready-to-Use Boards are the perfect alternative for a natural wood finish in your interior.
In order to give rooms a wooden look and feel, we often glue veneers and lamination sheets to surfaces. However, maintaining it for a longer period requires a lot of care, time, and energy. In both quality and affordability, Thomson Multilam is superior to wood and other techniques like glueing veneers and after-market laminating sheets by maintaining its structure for years of usage in every environment thanks to the state-of-the-art German Hot Glue Technology's binding strength that assures the stable crystalline structure for any product you build.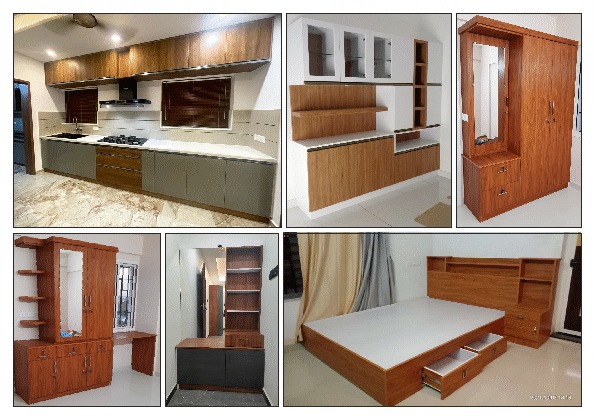 Thomson Multilam is available in a variety of vivid, premium colours, including Fab Cream, Teakwood, Light Teak, Cherry, Dark Cherry, Chest Nut, Oak Veneer, and Rosewood, for ease of construction and aesthetic beauty.
Both sides of the Multilam boards are useable for creating any designs you desire in your interior. Aside from that, Multilam is a waterproof, termite-proof, and fire-retardant wood finish lamination on multiwood sheets that is certain to be used in modern houses and businesses. You can get brand-new, minimalistic interior decor for a very reasonable price using Multilam sheets. The structural stability, toughness, and cost advantages are all important factors of Thomson Multilam sheets.
Multilam Features
Premium wooden surface finish.
German Hot Glue technology for extreme binding strength.
Lightweight, strong, Ready-to-Use.
Waterproof, Termite & Borer proof, Fire retardant, Non-porous.
Both interior & exterior use, Good thermal & sound insulation.
Can withstand any climatic conditions.
Environment-friendly Thomson Multiwood laminated material.
Can wash & clean with water.
Painting is not required since it is available in 8 wooden finishes.
No split or warp even after years.
Not at all harmful to the environment or to human.
Common Uses
Home and office interiors.
Kitchen cabinets, storage cabinets in highly humid areas and wet area application.
Doors including Bedroom, wardrobe, Toilet & Bathroom cupboards.
Customized office partitions, file rack etc.
Grooving, carving & design works.
Interior wall covering and decor.
മൾട്ടിലാം ഷീറ്റുകളുടെ സവിശേഷതകൾ
മനോഹരമായ പ്രീമിയം തടിയുടെ ഫിനിഷ്
ശക്തമായ ബൈൻഡിംഗ് ഉള്ള ജർമ്മൻ ഹോട്ട് ഗ്ലൂ സാങ്കേതികവിദ്യ
ഭാരം കുറഞ്ഞ, ശക്തമായ, പുറമേ പണികൾ ഒന്നും ചെയ്യാതെ ഉപയോഗിക്കാൻ കഴിയുന്നത്
വെള്ളം പ്രശ്നമില്ലാത്ത, ചിതലരിക്കാത്ത, തീ പടർന്നു പിടിക്കാത്ത മെറ്റീരിയൽ
അകത്തും പുറത്തും ഉപയോഗിക്കാൻ കഴിയുന്ന ശബ്ദവും ചൂടും തടുക്കാൻ കഴിയുന്ന മെറ്റീരിയൽ
ഏത് കാലാവസ്ഥയെയും നേരിടാൻ കഴിയും
പരിസ്ഥിതി സൗഹൃദമായ തോംസൺ മൾട്ടിവുഡ് ലാമിനേറ്റഡ് ഉത്പന്നം
വെള്ളത്തിൽ കഴുകി വൃത്തിയാക്കാം
8 വുഡൻ ഫിനിഷുകളിൽ ലഭ്യമായതിനാൽ പെയിന്റിംഗ് ആവശ്യമില്ല
വർഷങ്ങൾ കഴിഞ്ഞിട്ടും പിളർപ്പും വിള്ളലും ഇല്ല
പരിസ്ഥിതിക്കോ മനുഷ്യനോ ഒട്ടും ഹാനികരമല്ല
സാധാരണ ഉപയോഗങ്ങൾ
വീട്ടിലും ഓഫീസ് അകത്തളങ്ങളിലും ഉപയോഗിക്കാൻ
അടുക്കള കാബിനറ്റുകൾ, ഉയർന്ന ഈർപ്പമുള്ള പ്രദേശങ്ങളിലെ സ്റ്റോറേജ് കാബിനറ്റുകൾ, വെള്ളം പ്രശ്നമാകാൻ സാധ്യതയുള്ള സ്ഥലങ്ങളിൽ
മുറികൾ, വാർഡ്രോബ് ഉൾപ്പെടെയുള്ളവയുടെ വാതിലുകൾ & ബാത്ത്റൂം അലമാരകൾ
ഇഷ്ടാനുസൃതമായ ഓഫീസ് പാർട്ടീഷനുകൾ, ഫയൽ റാക്ക് തുടങ്ങിയവ
ഗ്രൂവിംഗ്, കൊത്തുപണി, ഡിസൈൻ ജോലികൾ
ഇന്റീരിയർ മതിൽ കവറും അലങ്കാരവും

No Formablehyde Emission

Absorbs Sound

Flame Retardant

Easily Machinable

Durable

Anti-Rodent

Good screw handling

Resistant to fungus, algae or mold

UV Resistant

Thermoformable

Smoke Suppresant

Resistant to Expansion/Contraction

No Splintering/Crack

Anti-bacterial

No Harmful Ingrediants

100% Eco-friendly