THOMSON WOODPLUS are high-quality WPC boards made of rice husk and polyvinyl chloride composite ingredients (PVC). There are no artificial fillers or chemically addicting chemicals in this product. It's a durable composite sheet with natural characteristics and color (Beige wood) . The product is chemical free, including lead. With the inclusion of rice husk, the stiffness and tensile strength of the material improves screw holding and nailing.
Thomson supplies the best WPC boards in Kerala. WOODPLUS is a long-lasting, environmentally friendly, sturdy, and exceptionally water and moisture resistant product that outperforms Plywood, MDF, HDF, and other similar products. Thomson's WOODPLUS is the best choice for your interiors, apply Laminates, Veneer, or Putty to the surface and paint it for an attractive look. WOODPLUS can also be used for a variety of outdoor applications. Thomson WOODPLUS is the eminent WPC Board dealers in Kerala. Wood Plus offers eco-friendly and high quality material with the latest technology.
Thomson Wood plus is a high-strength, long-lasting material that may be used in building construction, household furnishings, decks, and other applications. In every sector of engineering, this is the period of fresh research, invention, and advancement. Every year, the new building material is developed in order to save money and the environment.
The endeavor is being stepped up to develop environmentally friendly construction materials that cause less environmental impact during their manufacture and usage. WPC board, which stands for Wood Plastic Composite Board, is a composite material manufactured by fusing plastic and wood fibers together. With a natural appearance and feel of wood, while keeping the flexibility and durability of wood-plastic composites, the WPC exterior pannel is the best wall decorating option. WPC outdoor planks are water-resistant, rot-proof, and splinter-free, the resultant low-maintenance wall pannels are charmingly natural and will add instant beauty and warmth to your house.
Wood PVC is a great option for furniture building since it is 100% waterproof and termite resistant. It has a high screw holding capability and is simple to install and operate. On the same characteristics, people prefer PVC boards for their interior and exterior building purposes.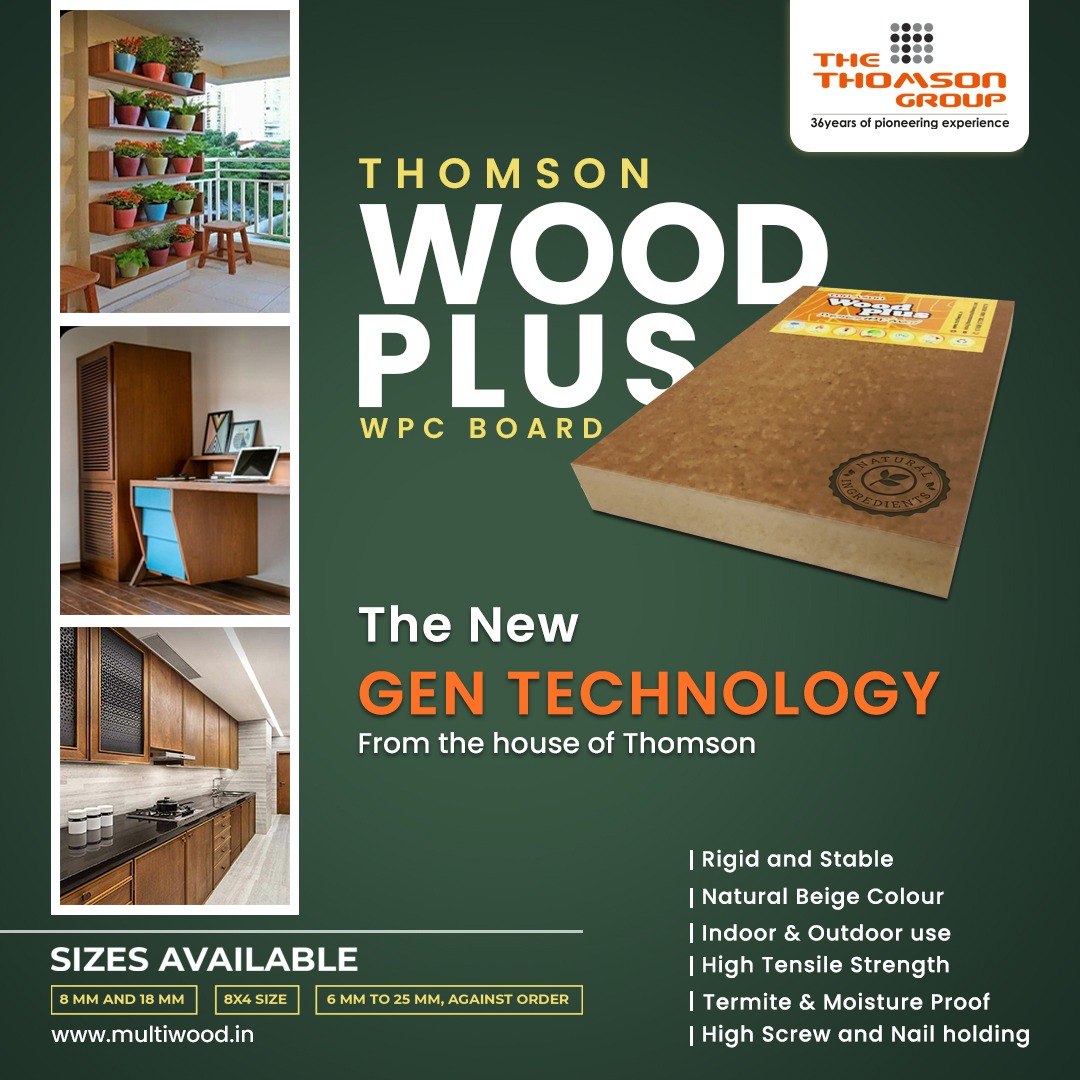 WPC Board Features
Termite & moisture Proof
Natural & Recyclable
Both Nailable and Screwable
No Chemicals added
Rigid and Stable
Natural Beige Colour
Can Putty and paint
High Tensile strength
Available in 8 mm and 18 mm thickness, 8X4 size, 6 mm to 25 mm, against order.
WPC Boards Advantages
Assured Quality
Cost Effective
Eco-friendly
Fire resistant
Ravishing look
Easy to Maintain
Can be molded to different shapes and sizes
WPC Boards Uses
INTERIORS
Perfect for Modular Kitchen
Home and Office Furniture
Wall Paneling
Stunning Ceiling
Wardrobes
Bathroom Cabinets
Windows and Door frames
Stair railing
EXTERIORS
Constructions and shuttering boards
Exterior wall cladding
Garden Furniture
Park fencing and benches
Outdoor deck flooring
Prefabrication house
ADVERTISEMENTS
Signboards
Display boards
Direct digital painting
Exhibition stands
Graphics