Categories

All

Nov 20, 2013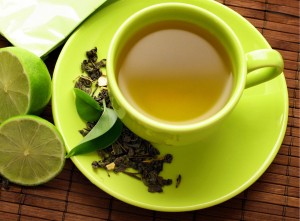 Green tea can be regarded as a storehouse of benefits for the skin. It contains a great deal of antioxidants which are effective against free radicals. These free radicals, which are formed when the skin is exposed to the UV rays of the sun, are accountable for premature aging.
Helps you lose weight
If you want to cut those extra inches around your tummy, switching to green tea could be a simpler way. A new study shows that green tea extract increases the rate of calorie burning by the body. It reduces blood fat, cholesterol, detoxifies the body and suppresses untimely food cravings. Enabled with diuretic properties, it also eliminates excess water and thereby reduces excess weight. So the best way to get rid of that paunch is to have green tea along with the right amount of bodily exercise.
Boosts exercise endurance
According to scientists, antioxidants present in green tea extracts increase body's ability to burn fat as fuel which accounts for improved muscle endurance. It also enhances energy levels and boosts your metabolism.
Reduces the risk of heart attack
Drinking green tea rapidly improves the health of body cells lining the blood vessels and also helps in lowering one`s risk for heart disease.The flavonoids present in this tea protect the heart by relaxing the blood vessels so blood can flow more easily.So,protect your heart and have green tea on a regular basis.
Fights against various cancers
The antioxidants in tea helps protect against a shipload of cancers, including breast, colon, colorectal, skin, lung, esophagus, stomach, small intestine, pancreas, liver, ovarian, prostate and oral cancers. Green tea extract is reported to induce cancer cell death and starve tumours by curbing the growth of new blood vessels that feed them.
Hydration benefits
If you love drinking green tea then there is good news for you.Contrary to common belief that tea dehydrates,green tea provides hydration benefits similar to water.Tea not only hydrates as well as water does, it also has many other health benefits.
Protection from harmful ultraviolet rays
The sun's UV rays in summer act as a constant threat. Green tea is rich in antioxidants that scavenge harmful free radicals in the body according to researches. Also using green tea extracts along with your sunscreen could afford you the greatest level of sun protection.
Keeps Diabetes in check
Green tea can do wonders to a person suffering from diabetes.Green tea apparently helps regulate glucose levels slowing the rise of blood sugar. It also triggers and stimulates insulin production and activates the functioning of pancreas to some extent.Blood sugar level in the body is also normalized and regularized by the use of green tea.