Categories

All

Jan 02, 2014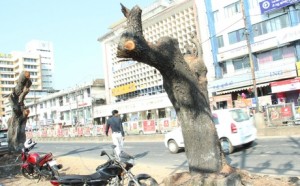 The new year is going to miss the green cover of MG road. Amidst public outrage, the trees have been axed down in the name of development.
More than 40 trees were felled for the Metro Rail Project and it is estimated that around 430 trees would be cut down as part of the project.
The roadside vendors who once made a living under the canopy of these trees have also moved out thanks to the unbearable heat. Over the decades, the footpaths along the stretch offered space for leisurely strolls and even tempted many to take these roads despite there being shortcuts.
"The place today wears a grim look and is a victim of modernisation. It took 30 years for saplings to grow into trees and just a few hours to be cut down. Nothing can replace the tranquility the place offered and the pollution-free atmosphere. Before, people preferred to walk through the street, but now it is a traumatic experience. Development is inevitable, but not at the cost of nature," said Subhash Kumar, a security guard.
Though the Metro Rail authorities have promised to plant three million saplings to compensate for this loss, for many it is irreplaceable.
"It is heartbreaking," says Malavika Nandakumar, a class 12 student of Seventh Day Public School.
However, the Metro Rail authorities defended the act citing that it was important to widen the roads as part of the project or else it would create much traffic chaos.
"We are planning to compensate by sapling ten folds. There are proposals to develop green spaces and renovating parks. It would be implemented by the end of January," said KMRL officials.