Categories

Jun 25, 2012
Trivandrum: A Green Film Festival, has been conducted in the city exclusively dedicated to the conservation of the ecosystem is bound to trigger a second thought among those who are careless about the ecological balance.The three-day festival showcasing forty-five movies on environmental issues and their prevention started in the city on June 21. The festival has movies dealing with sand mining, water pollution, deforestation and ecological imbalance.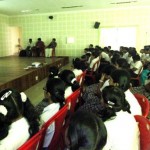 The Green Festival, organised by the Centre for Gandhian Studies,University of Kerala along with the Department of Information and Public Relations and the State Biodiversity Board, was inaugurated by the Minister for Culture K C Joseph in the presence of noted Environmentalist Sugathakumari.The festival also features movies like 'Shelter', a 25 minute film directed by Madhu Kaayalodu with a warning to the current generation on the effects of careless usage of resources, 'Crying Birds', directed by Abdul Azeez, which speaks on the difference in attitude between the people who live in concrete apartments and in villages.
The opening film, 'Recycle Bin' directed by Sujeesh Mattakara spoke about the waste management issue in our state. The ten minute short film reflects the feelings of nature lovers on the hazardous waste dumping happening around them.
"The idea of conducting subject oriented film festivals will help to spread the message among the public easily. The inaugural film had a green message to convey -the imbalance created by man in our eco system, especially the bad effects of plastic. These kinds of film festivals are apt for the situation in Trivandrum now, when we see waste at every turn," beamed Gokul, one of the viewers."The main aim of the festival is to give a chance to the public, to Think about how they indirectly contribute to the destruction of the earth . They should watch it, then think, re-think, discuss and act for all sorts of environmental issues. This is the right time for an action. I hope this festival will create an impact," said Rahim, Coordinator, Centre for Gandhian Studies.