Categories

All

Dec 23, 2013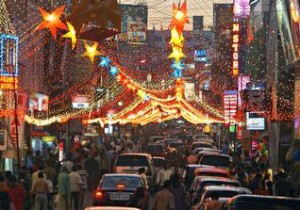 A season of cards , carols and cakes, a season when the whole world gets soaked in celebrations. It's also a season when all the neighbourhood in the world wears a festive mood. It's customary for people to decorate their homes with stars and illuminate them by lighting fancy lights.
Christians gather together in churches to offer prayers, wear new clothes and exchange pleasantries with their loved ones.Nowadays Christmas has become a social event for all people, belonging to all religions, to get together, to celebrate and to dine together.
Kochi has all set to celebrate in a grand manner as always. It's visible in the streets of Kochi,how they have geared up for the festival in the most fascinating manner.We could see Santas in front of almost all retail shops and the shops are ready with Christmas surprise gifts and offers.
At this season of giving and celebration, it will be very useful to spare a moment to think about the world and it's current ecology and share it in the get-together. So that we could celebrate more and more joyful Christmas, by reducing cutting down of trees, pollution and by planting more and more trees.
Merry Christmas!!!