Categories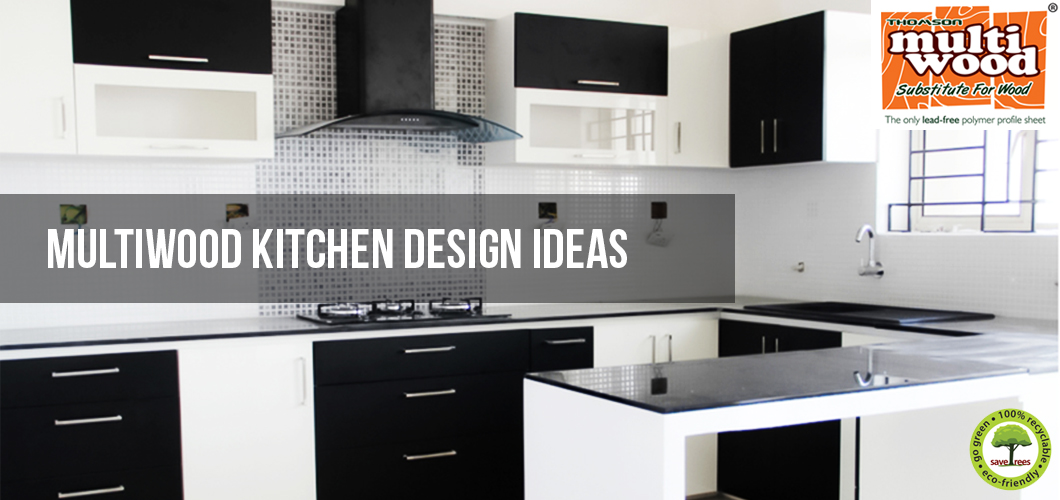 May 18, 2018
A kitchen in a way is the heart of a home. It is where the children spend most of their time with their mum's and dad's. It is the place for experiments and at the same time bonding with each other member of the family. Kitchen is also the place where you gossip with your friends and cousins when they come to visit you from long times. And so, Kitchen holds a very special place when one designs his house. Multiwood is obviously the major ingredient in making the place magical. The touch of wood gives the people around a feeling of being fresh and happy. Here we are going to discuss the top 5 Kitchen designs that you would want to look at when designing your home using Multiwood.
There are quite a lot of things that one can do with Multiwood, given the options. Now here we are going to talk about those options. In the case of Cupboards, multiwood can be used in many forms and colors, the primary designs include- a) Glass - Multiwood design b) Full Multiwood Design
Moving onwards, one can apply Multiwood for the Workspace. Workspaces are quite messy at times with water spills and hot oil drops. Unlike standard wood, Multiwood, is 100% waterproof and that shows us possibilities of using it as the Workspace top. In addition to the Workspace, one can also use Multiwood to design, the central Island of the kitchen. Central Islands in the kitchen play an important role, for the family to work together. Multiwood being an all rounder can also be used to make the Workspace and at the same time, the entire Island as such. Moreover after cooking, one can always use Multiwood based Tables and Chairs for the family to sit together. The plus point of using Multiwood is the durability, the design flexibility and at the same time reduced cost of maintenance.
Finally, the last application of Multiwood in the kitchen floor is the floor itself. Using multiwood, one can always choose what kind of floor or design one wants, irrespective of the cost and maintenance. To conclude, Multiwood is a wood with a wonder. Not only does it have all kinds of application, but the amount you spend to keep it up, is quite less. One thing, is certain that if your family decides to have a home with much wood work, Multiwood is the object of your choice to make your home your heaven.