Categories

Jul 07, 2012
Wolfgang, a young man from Germany, had come to India 40 years ago in search of souls roots. But after he settled down in Wayanad district, he devoted a major portion of his time and effort to keep the natural forest land at his disposal rooted to the soil.A small patch of land in Periya, on the Kannur -Wayanad route is now the Gurukula Botanical Sanctuary and Garden, all made by this great personality.
Wolfgang Theuerkauf fell in love with the place, stayed on and bought 55 acres. Of this, 10 acres is a garden and nursery today, while the rest has been restored into forest land, fields and grazing areas with evergreen forests around.
Colourful butterflies, winged parakeets and mountain imperial pigeons, Niligiri langurs, sambhar deer, necked mangoose, et al keep flying and running around.
inspirationIt is home to nearly 2,000 species of plants from the Western Ghats and is rich in fauna and flora. But there is a whiff of danger too.
There are more than 20 varieties of snakes, of which seven are very poisonous. In the Gurkula, there is organic farming, animal husbandry, and alternative energy mechanisms.
"On my travels to different parts of the world, I came to India and ended up in the Western Ghats," says Theuerkauf.
He bought a patch of land and started the Gurukula in 1981. "As this area was encircled by forests, no one was willing to look after it," he says. "I decided to do so."
Initially, he had problems communicating with the locals, but he managed through sign language. "As for funds, my family in Germany also helped me," says Theuerkauf.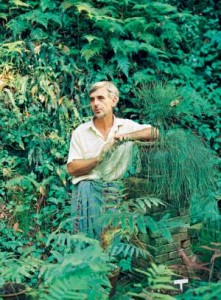 In 1981 Theuerkauf received Indian nationality and married a Malayali, Leelama, who is from Periya. They have a son, Santheeya and a daughter, Anna. Suprabha Seshan, a Tamilian, has been assisting Theuerkauf for the past 18 years.
"A few years ago, there were no discussions about conserving nature or preserving biodiversity. "But now for our very survival it is necessary, as you can understand from the changing climate of Kerala," he says. Theuerkauf says nature is under tremendous pressure.
His work has received international recognition. The International Union for the Conservation of Nature has labelled Gurukulam as one of the 25 centres of biodiversity in the world.
In 2006 he won the 'Whitley'award, the biggest environment award in Britain, for the most effective conservation efforts around the world.