Thomson FiWOOD is the most natural fibre composite created by the trusted brand. Natural fibre composites (NFCs) are composite materials that are derived from renewable and carbon-neutral resources such as wood or plants. The pure Eco-friendly and recyclable nature of the material ensures good workability as well as protracted stability. Effortless thermoforming without any compromises on strength is a unique feature of FiWood. wood fibre boards are flexible and easily machinable, so you can cut, drill, or change their shape in any way you like. A high content of natural fibre works with full threaded and wide head screws. Thomson FiWood has authentically tested and assures that they are termite resistant, as well as water and fire-resistant resulting in long-lasting effects.
FiWOOD is available in the market with many advantages like its anti-bacterial, anti-rodent, has good screw handling capacity, and even it is resistant to expansion or contraction. If you are concerned about safety, being one of the best FiWOOD manufacturers we recommend you to use FiWOOD for your furniture, bathroom, wardrobes, kitchen, roofs, and dining area. The FiWOOD availability is now easy for you by from FiWood Manufacturers. Therefore the product is easily available for you to change the outlook of your home.FiWOOD meaning itself shows they are renewable materials made of carbon-neutral resources such as wood or plants. The natural fiber sheet and fiberboard not only give your house a new look but also gives you protection like a shield.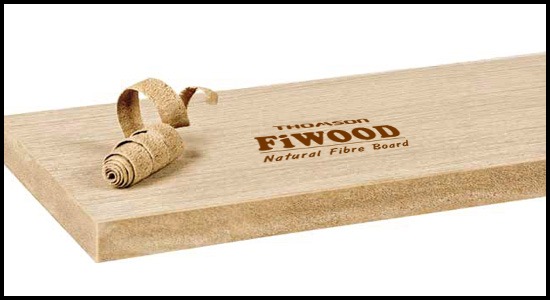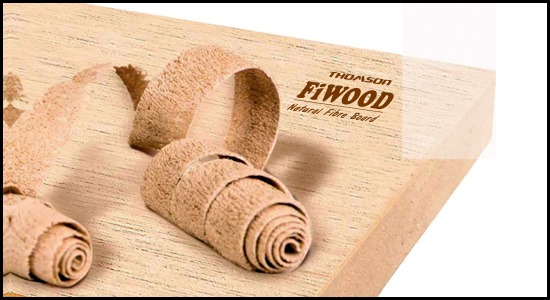 When coming to the outdoor of a house it requires the same amount of quality you choose to give in your Interior products. When comparing FiWOOD and Plywood could always see that the FiWOOD does not excel in words but in action. There are variations for the products used as Interior materials and exterior materials but FiWOOD properties are applicable for both. FiWOODexterior can be used as one of the best products for the outdoors to give them elegant look and to stay the same for the long term. Outdoor products are exposed to sun and rain so a waterproof board can only make it worthy for an astonishing look.
Wood is a Natural fibre board, The NFB is clean and suitable for human consumption. These sheets can be used to make furniture, in the construction industry, or for thermal and acoustic insulation. NFB Natural Fibreboard is a registered brand for wood fibre boards made without the use of any binding chemicals. The European Panel Federation has a licenced NFC board. There are a variety of boards for different usages, therefore, the price seems to vary from product. Natural fibre board prices are reasonable as it has plenty of advantages.
Usage of NFC Board in Kerala is mainly focusing on the protection from Termite proof, Waterproof, Anti rodent, Smoke suppressant etc... In a short span of time NFC Kerala has gained prominence among the people.
Characteristics
FiWOOD is a Natural fibre board
Rough Sanded surface suitable for easy lamination on top as well as Polishing and Painting.
Light Beige in colour, Protected with both side lamination.
FiWOOD is heavier than any other board.
100% water and termite proof.
Both Interior and Exterior Use
Both Screwable and Nail' able.
FiWOOD is not PVC Or WPC
Advantages
No Formablehyde Emission
Easily Machinable
Anti-Rodent
Resistant to fungus, algae or mold
Good screw handling
Resistant to Expansion/Contraction
No Splintering/Crack
Anti-bacterial
Applications
Office furniture
Bathroom & Moist areas
Cabinet
Wadrobes
Kitchen
Dinning area
Roofs
Fencing
Exteriors
Interior designing materials should be selected carefully and hand checked by a professional constructor. Like FiWOOD exterior. Interior building materials of FiWOOD are long lasting and are capable of protecting you from fire, water, bacteria and rodent. The laminated sheet and rice husk board are highly recommended by the interior designers. FiWOOD interior can make your living room, bedroom, Kitchen etc as live for a long period of time. There are materials separately for Kitchen design in a contemporary style. Change your Kitchen to FiWOOD kitchen and get a modern look. FiWOOD features like wood fiberboard are ideal for making furniture for your home or any other commercial places. WPC fiberboard is one such characteristics of WPC FiWOOD. This has many functions and supports all the features of a WPC. FiWOOD usage is not limited to these. For an ideal home, you can use a combination of both Multiwood and FiWOOD for the perfection you wish.

No Formablehyde Emission

Absorbs Sound

Flame Retardant

Easily Machinable

Durable

Anti-Rodent

Good screw handling

Resistant to fungus, algae or mold

UV Resistant

Thermoformable

Smoke Suppresant

Resistant to Expansion/Contraction

No Splintering/Crack

Anti-bacterial

No Harmful Ingrediants

100% Eco-friendly
SIZE
FiWOOD are available in 8 mm 12 mm, 16 mm & 18 mm thickness and Door size also available in 25 mm & 30 mm
TEST RESULT